Denton park crews have closed the trail over the dam at Lake Forest Park indefinitely after engineers discovered small leaks in the dam.
State and federal officials classify the dam as "low hazard" because a breach would not pose a significant risk to lives and property downstream. Parks Superintendent Drew Huffman said the city owns the property downstream, including Cross Timbers Park and the creek land that leads to Hickory Creek and, eventually, Lewisville Lake.
The city's biggest concern would be people on, or below, the dam during a big rain, Huffman said.
"We're taking all the precautions," Huffman said, adding the city really doesn't want people in the area because it would be difficult to see whether there was trouble with the dam.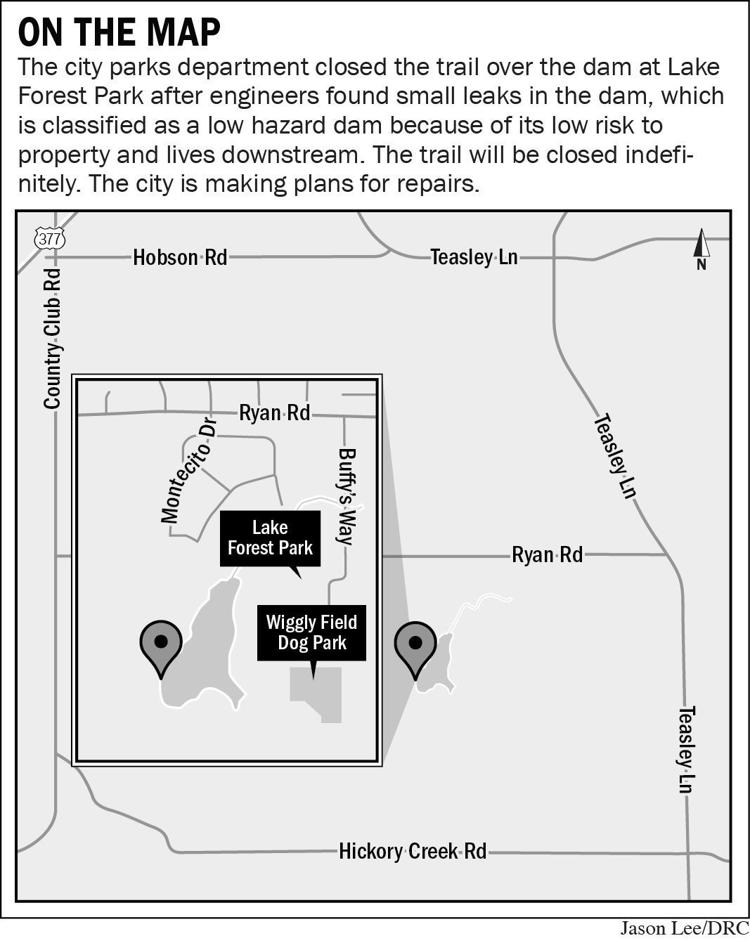 Park crews installed a temporary construction fence to block access to the trail. Permanent fencing is coming soon, Huffman said.
Parks officials and engineers have been evaluating the 10-acre pond itself for repairs. Silt has been building up in recent years.
The pond is now just 12 feet at its deepest spot. When the city assumed ownership of the land and the pond in 2002, the pond was reported to be 21 feet at its deepest spot, Huffman said.
Parks officials asked for $1 million to be included in the 2014 bond package to pay for pond repairs, but it was left out of the bond package. The revelations about the dam's condition don't change the plans to dredge, Huffman said.
But dam repairs and wildlife mitigation will get added to the to-do list, he said.
The engineers will review the status of the dam with state and federal officials before recommending the type of repair. The dam might be repaired with injections of a special grout, but it's also possible the dam will need to be completely rebuilt, Huffman said.
The dam was originally built in 1935 and was reconstructed in 1965.
Two parks in Denton have dams big enough to be subject to state and federal regulations. The other is in North Lakes Park.
State inspectors visited the dam in North Lakes in July and expressed no concerns, Huffman said.
The trail closure at Lake Forest Park will be limited to the dam itself, Huffman said. Parkgoers can still enjoy the rest of the trail that covers more than 1.5 miles of the park, most of which is covered by trees.