Suzanne Floyd loved all dogs, but she held a special place in her heart for neglected pit bulls.
Floyd, 64, started the nonprofit Salty Dogs Rescue in Weatherford in 2012 to find a home for unwanted or mistreated dogs. Friends say she operated the nonprofit with an unwavering passion for animals until her death on Saturday, when she drowned in Lewisville Lake.
Denton County Game Warden David Spangler said Floyd was on a boat with her father when they decided to go swimming at around 1:30 p.m. Floyd was about 200 yards from the shore when she dove under the water for a long period of time.
She was unresponsive when she surfaced, Spangler said, adding she wasn't wearing a life jacket.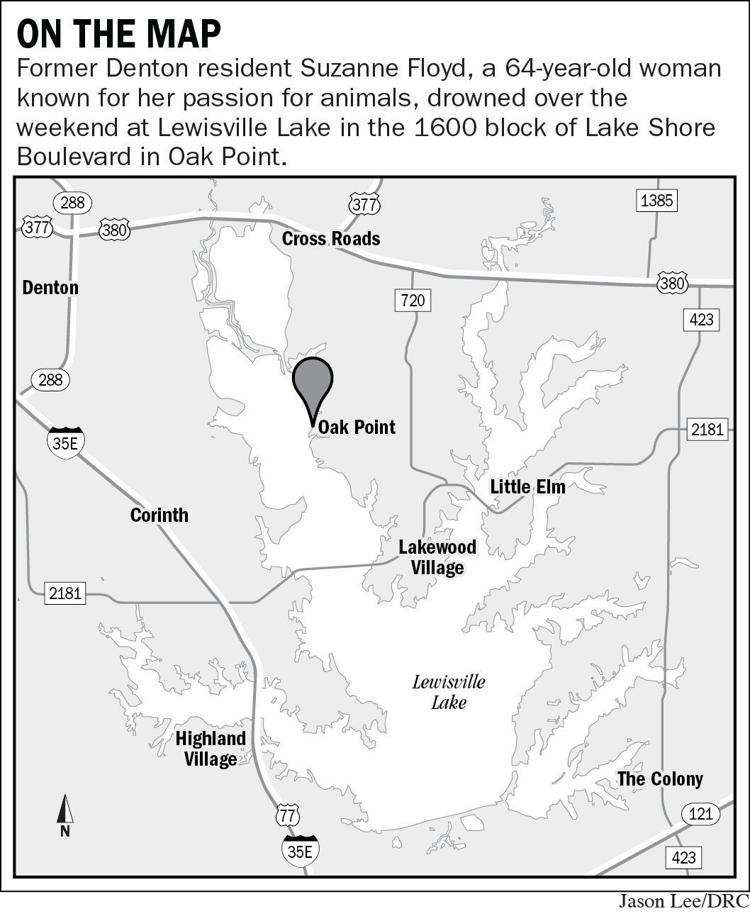 Friend and rescue mentor Danielle Stewart said Floyd had been bedridden with an illness for a long period of time. Then, one morning, she woke up inspired.
"She said she basically woke up one day and wanted to make a difference," Stewart said.
Floyd is listed as a former Denton resident on her Facebook page, where scores of friends and fellow animal lovers sent messages expressing their shock and grief after learning of her death.
"The animals have truly lost a warrior," one post reads.
Floyd's Facebook page says she graduated from Denton High School. She studied education at Texas Woman's University and at what then was North Texas State University.
Stewart, founder of Apollo Support & Rescue, said Floyd reached out to her six years ago to learn more about the animal rescue world.
Floyd wanted to help all animals, but she gravitated toward the neglected "underdogs," especially pit bulls.
"She didn't realize there were so many pit bulls who needed care," Stewart said.
Floyd's commitment to pit bills shined in the early years of Salty Dogs, when her previous facility in a Fort Worth suburb was condemned, Stewart said.
Floyd found homes for 15 dogs in the facility, but she still had another 15 displaced dogs, Stewart said.
Floyd was determined to stay with the dogs until she could find a new venue for her nonprofit. So Stewart let them stay in her former Apollo Rescue facility — an abandoned cabin with no furniture in Justin.
"These dogs had better accommodations than she did while she waited on property to open in Weatherford," she said.
Once Floyd opened Salty Dogs in Weatherford in 2014, Stewart said she took in needy families and paid them to care for the dogs. She continued that practice until her death, she said.
Now, Floyd's niece Jessica Messman has created a crowdfunding page at www.gofundme.com/suzanne-floyds-legacy to help feed and house more than 30 dogs until they find permanent homes.
"Our family will be paying all funeral costs," Messman said on the GoFundMe page. "This is how Suzanne would want it. Everything for the fur babies."