The Upper Trinity Regional Water District and the city of Denton have water restrictions in place because of high temperatures and drought conditions, according to officials at both entities.
Upper Trinity supplies water to most of the county except the city of Denton. Upper Trinity established Stage 1 of the drought contingency plan on July 19, said Jason Pierce, the manager for watershed and contract services.
Stage 1 is to encourage residents to water outdoors wisely. Pierce said the first stage was instilled because of the continued high temperatures and lack of meaningful rainfall.
"Stage 1 is a mandatory, no more than twice a week watering [and] avoid watering between 10 a.m. and 6 p.m.," Pierce said. "Our desire is for our customers to use water wisely, which would avoid us going to Stage 2."
Continued high usage of water and decline in the water supply from the reservoirs would move the county to Stage 2.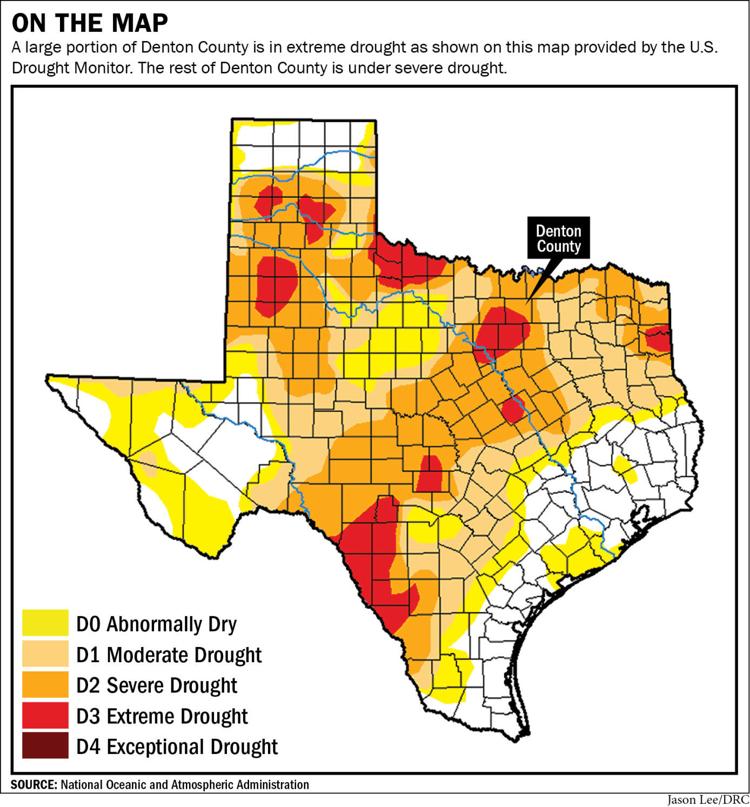 Pierce said Upper Trinity does not expect to pull back from Stage 1 for the rest of the summer.
While the Upper Trinity established water restrictions through its drought contingency plan, the city of Denton did not instate its drought contingency plan.
Instead, the water utilities department for the city of Denton put water restrictions in place in June.
Kenneth Banks, the director of utilities, said Denton's water restrictions are put in place from June 1 to Sept. 30 every year.
These water restrictions prohibit watering any lawn or landscape between 10 a.m. and 6 p.m. This restriction does not include hand-watering and the use of soaker hoses for watering foundations.
About half of Denton County is experiencing extreme drought while the other half is experiencing a severe drought, according to the U.S. Drought Monitor map on Thursday, which is updated weekly.
The National Weather Service said there may be rain Wednesday associated with a weak cold front.
The best chance of rain would be Wednesday with a 30 percent chance during the day and a 40 percent chance in the evening.
While the highest chance of rain is Wednesday, the weather service said there could be isolated rain through Friday.
Triple-digit weather is expected early next week. The weak cold front will bring temperatures in the mid 90s during the day and lower to mid 70s at night.
North Texas has a higher percent chance of temperatures being hotter than normal and precipitation being lower than normal for the next 90 days, according to the Climate Prediction Center.
Ray Roberts Lake and Lewisville Lake are below full pool levels by about 1 and 3 feet, respectively, according to LakeLevels.info, a national information and alert service for lake water levels in the U.S.